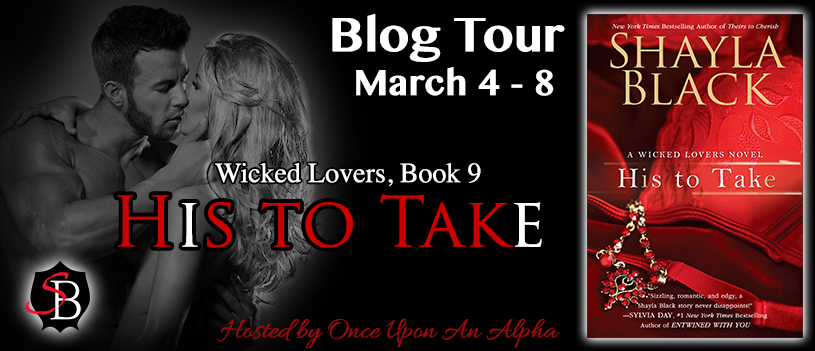 Racing against time, NSA Agent Joaquin Muñoz is searching for a little girl who vanished twenty years ago with a dangerous secret. Since Bailey Benson fits the profile, Joaquin abducts the beauty and whisks her to the safety of Club Dominion—before anyone can silence her for good.
At first, Bailey is terrified, but when her captor demands information about her past, she's stunned. Are her horrific visions actually distant memories that imperil all she holds dear? Confined with Joaquin in a place that echoes with moans and breathes passion, he proves himself a fierce protector, as well as a sensual Master who's slowly crawling deeper in her head…and heart. But giving in to him might be the most delicious danger of all. Because Bailey soon learns that her past isn't the only mystery. Joaquin has a secret of his own—a burning vengeance in his soul. The exposed truth leaves her vulnerable and wondering how much about the man she loves is a lie, how much more is at risk than her heart. And if she can trust him to protect her long enough to learn the truth.
What can I say about His To Take by Shayla Black? First off, other than being wickedly delicious and filled with suspense and the sensual BDSM we enjoy from Miss Black's Wicked Lover books is that the characters are a bit different compared to previous characters in this series. However, I am NOT saying this is in anyway a bad thing, in fact I found the characters beyond likable and may well be my new favorites in the series. We got the sexy yet stern, Joaquin who wants to save another woman from getting tortured and killed like his friend had. He risks EVERYTHING, including his job to protect Bailey the sweet and seductive ballerina who is the next target from the horrendous bad guys that are after her for secrets she doesn't quite remember. After taking her to Club Dominion, things get heated between captor and captive and they both learn a few things about themselves that they didn't realize were inside them the whole time.
I loved how intricate and well woven His To Take was. It had the perfect blend of suspense and romance. The love scenes were both sensual and deliciously erotic. I LOVED how we got not one, but TWO characters new to BDSM. Luckily we have some previous Wicked Lover characters that both guide and teach the newbies what they need to know. I was also amazed because both characters have great instincts when it comes to BDSM play but neither one has any issues taking some guidance from others to make sure everything is safe and pleasurable.
I really liked Bailey. She is a wonderfully talented ballerina with a body I envy. She is also a sweet submissive. She just doesn't realize it until arriving and exploring the popular BDSM club she is being kept in. Now Joaquin is a very stern man. He also happens to be a Dom. It takes him experiencing feelings and instincts he never thought he had, until Bailey came into his life. After talking things out with the club's owner, he starts to realize himself, that he always liked the control in the bedroom but he never gave much thought to it until Bailey shows her almost bratty and fiery side. This is when things heat up and become more then a job to Joaquin.
Sex between Bailey and Joaquin are inspiring, sexy, and oh so good as they both explore the different dynamics in BDSM. Not only do we get this sinfully addicting romance, but when danger gets closer, the action intensifies and the suspense becomes edgy, just the way I enjoy these books!
His To Take was SO GOOD that I had to make sure I gave it the rating it deserved. I thought this story was well written with some sexy as sin scenes and a edgy storyline that giving this story ANYTHING less than a FIVE SHOOTING STARS was impossible! His To Take was worth EVERY. SINGLE. STAR. I gave it. Bottom line. This book was sincerely good and I enjoyed reading every page! Well done Miss Black. Well done.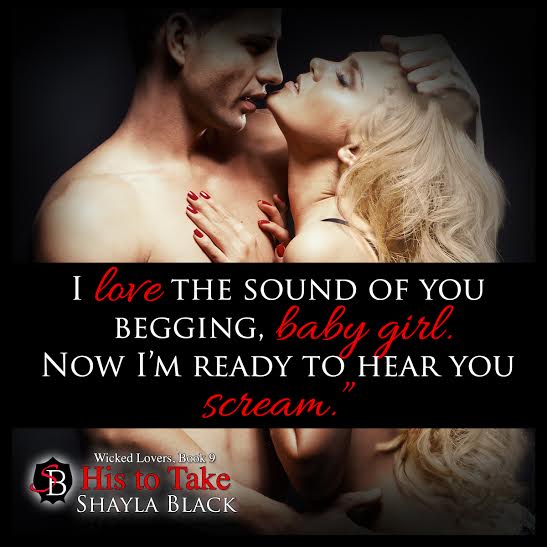 **** WICKED LOVES SERIES ****
* A *Signed* Copy of Forever Wicked & A *Signed* Copy of Theirs to Cherish by Shayla Black*
You know what they say about curiosity and the cat…but if you still want to know, read below. Shayla Black (aka Shelley Bradley) is the New York Times and USA Today bestselling author of over 40 sizzling contemporary, erotic, paranormal, and historical romances produced via traditional, small press, independent, and audio publishing. She lives in Texas with her husband, munchkin, and one very spoiled cat. In her "free" time, she enjoys reality TV, reading and listening to an eclectic blend of music. Shayla's books have been translated in about a dozen languages. She has also received or been nominated for The Passionate Plume, The Holt Medallion, Colorado Romance Writers Award of Excellence, and the National Reader's Choice Awards. RT Bookclub has twice nominated her for Best Erotic Romance of the year, as well as awarded her several Top Picks, and a KISS Hero Award. A writing risk-taker, Shayla enjoys tackling writing challenges with every new book. Have something to say?
Contact Shayla or visit her on her Facebook page.
WEBSI
TE
*
FACEBOOK
*
TWITTER